Residenza d Epoca Villa Milani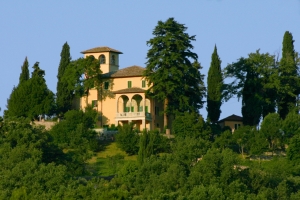 BOOKING FORM - RICHIESTA INFORMAZIONI
---
Situata a 2 km da Spoleto, con vista sullo splendido palcoscenico naturale della valle umbra, Villa Milani è un piccolo raffinato hotel di undici camere dai romantici nomi di costellazione.
Costruita nel 1880, la Villa è stata la residenza di campagna di Giovanni Battista Milani, uno dei massimi esponenti dell'architettura romana dei primi del ovecento, che la ampliò e arredò secondo i canoni classico-rinascimentali dell'epoca.Sapientemente restaurata da Giovanna Milani e Luigi Capobianchi e dichiarata Residenza d'Epoca dalla Regione Umbria, la Villa mantiene inalterate le sue caratteristiche originali, quali la straordinaria architettura e il prezioso arredo che, associate alla spettacolare posizione e alla calda ospitalità, contribuiscono a creare l'atmosfera raffinata e informale che la caratterizza.Circondata da un parco di oltre otto ettari di prati naturali e boschi, la Villa dispone di accoglienti aree esterne dove gli ospiti possono piacevolmente trascorrere momenti di relax: un grazioso giardino all'italiana arricchito da reperti romani e rinascimentali, una panoramica terrazza ornata da statue mitologiche ed una suggestiva piscina immersa nel verde. Premurosamente curato dalla cuoca di famiglia e riservato ai soli ospiti, il servizio ristorazione, disponibile da aprile ad ottobre, propone una Piccola Carta con piatti estivi e un Dinner a menu fisso, con piatti della cucina tradizionale umbra.
Con la sua atmosfera di unicità e intimità, associata alla formula della "Esclusività", Villa Milani costituisce il palcoscenico ideale per Eventi Speciali che privilegiano la "qualità" sulla "quantità", come ricorrenze, matrimoni, top meeting.
Bar,
Camere,
Si accettano animali,
Struttura d'epoca,
Giardino/Parco,
Zona panoramica,
Parcheggio privato,
Telefono in camera,
Ristorante,
Bagno con doccia,
Piscina,
Tv Color,
Servizio Lavanderia,
Idromassaggio,
Cassaforte,
Aria Condizionata,
Frigo Bar,
Sala Conferenze,
Si accetta Carte di Credito,
---
Dove siamo:
Come arrivare Treno: Stazione FS di Spoleto (linea Ancona Roma) a 3 km Auto: Autostrada A1 Roma – Firenze uscita Orte. Superstrada E 45 direzione Terni –Spoleto Autostrada A1 Firenze – Roma uscita Valdichian. Superstrada Perugia – Foligno -Spoleto Aereo: Aeroporto di Perugia "S.Egidio" a 50 km Aeroporto di Roma "Leonardo da Vinci" a 160 km
---
Villa Milani is a charming small hotel (eleven rooms) with superb panoramic views situated on the outskirts of Spoleto in Umbria, Italy. The Hotel was built in 1880 and was the country house of Giovanni Battista Milani – a well-known architect of the early 1900s. He enlarged the property and furnished the Villa to match its Classical/Renaissance features.
Latterly, the property was faithfully restored by Giovanna Milani and Luigi Capobianchi and was awarded the category of Residenza d'epoca (Historical Mansion) by the Regional authorities of Umbria.
Villa Milani still retains its original characteristics and priceless furnishings which, together with the magnificent panoramic views and warm hospitality of its owners, combine to create a refined yet informal and congenial atmosphere. The Villa is surrounded by parkland of some twenty acres of fields and woodland in which guests can stroll and relaThe lovely Italian gardens, with relics from Roman and Renaissance times, have a superb panoramic terrace overlooking the medieval city of Spoleto. The swimming pool is set apart from the Villa in its own garden and has beautiful views over the surrounding countrysidFrom April to October, Villa Milani is able to offer hotel guests light Lunches of summer dishes and a Dinner menu of traditional Umbrian cuisine cooked by the resident family cook. The Villa Milani, with its unique and intimate atmosphere, can be reserved, in exclusivity, for events such as small Weddings, special Anniversaries and high-level conferences and meetings.
Bar,
Rooms,
Animal Accepted,
Old Structure,
Garden-Park,
Panoramic Area,
Private Parking,
Phone in room,
Restaurant,
Bathroom with shower,
Swimming-pool,
Tv Color,
Laundry,
Idromassaggio,
Safe,
Conditioned air,
Minibar,
Conferences Room,
Credit Card accept,
---
Where we are:
How to reach by rail: Spoleto railway station ( Ancona – Roma line) 3 km by car: A1 motorway Rome - Florence exit at Orte and take highway SS 45 in the direction of Terni –Spoleto A1 motorway Florence - Rome exit at Valdichiana and take the highway to Perugia – Foligno -_Spoleto by air: Perugia "S.Egidio" airport at 50 km Rome "Leonardo da Vinci" airport at 160 km
Residenza d Epoca Villa Milani
Loc. Colle Attivoli, 4, Spoleto, PG, Italy
Tel. +39 0743225056
Fax. + 39 074349824
Contact: info@villamilani.com
vedi anche: http://www.villamilani.com/